Most, if not all, of us should plan for critical illness insurance more important than Life Insurance as it can affect anyone at any time.
The Ministry of Health (MOH) website states the principle causes of deaths in Singapore and that more than half of them are attributed to the top 3 CIs (i.e Cancer, heart attack and stroke), also commonly known as the Big 3.
Also, 4 out of the top 5 claim causes in Singapore is due to a CI.

How much critical illness cover do I need?
There are 3 ways which you can decide the amount of coverage you prefer. When discussing CI needs, the 5-year recovery period is often used. This is also what is considered as a complete remission should one have been diagnosed with cancer.
Critical Illness Insurance is meant as an income replacement, where the payout helps to pay for your daily expenses.
The most conservative option would be to adopt the amount of 5x your annual income.
According to the LIA protection gap study done in 2017, the average economically active adult Singaporean requires 3.9x their annual income, before accounting for any other savings or insurances they may have.
Lastly, would be to calculate your estimated expenses that you would still require to afford should you stop working and should you need any assistance.
Do note that a robust Hospital & Surgical (H&S) insurance is crucial to complement your CI cover as this would help reimburse hospital expenses while you focus on recovery.
Which is the best critical illness policy?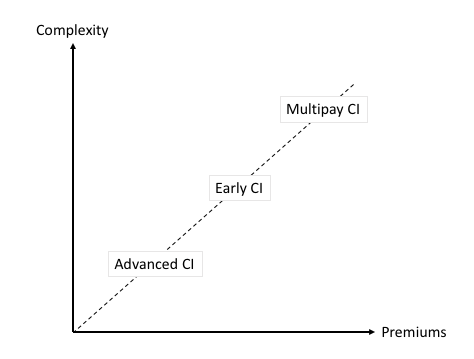 With several options available today, it is worth noting that as the policy gets more complex (i.e requires more terms and conditions to fulfil for a payout), the premium also goes up respectively.
Therefore, if you have a limited budget, your priority should be to make up the shortfall at the advanced stage before deciding on early or multipay solutions.
Traditionally, policies with either advanced or early CI would payout the sum assured upon diagnosis and there will be no more future benefits. However, Multipay CI plans could pay out at different stages of a CI from Early/Intermediate to Advanced and even relapses.
With reference to the LIA framework, other than the "severe" stage for 37 medical condition, all other medical conditions and their stages of illness progression are not defined by LIA. They have been loosely/variously categories by individual insurers under terms such as "mildly-moderately severe", "severe" (referring to LIA's commons definitions) or "extremely severe".

LIA Critical Illness (CI) Framework 2019
The above statement implies that as early and multipay definitions are not standardised (and any outside of the 37 specified illnesses), one should pay more attention when deciding which policy is best for them.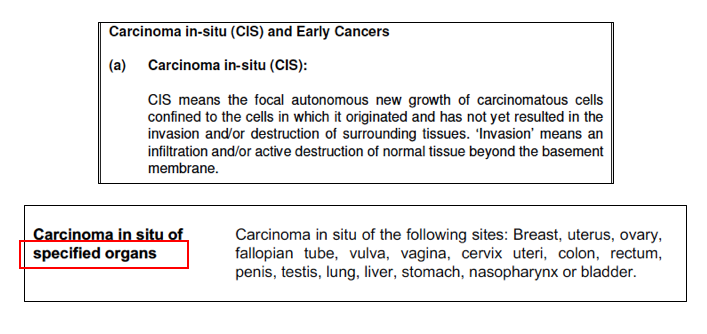 One quick test I do to filter out solutions is to check the definitions when it comes to Early cancers. The 1st definition does not restrict it to any particular organs in the body, while the 2nd only covers only the more common organs.
As more companies are increasing their range of coverage to include more conditions other than the standardised 37, it is good to ensure that the definition is less restrictive so that the chances of receiving a payout is higher when you expect it.
While advanced stage cover is usually added on as a rider to a life policy, there are standalone options for Early Critical Illness insurance and Multipay plans. These policies typically provide limited cover when it comes to pre-mature death.
Is Early Critical Illness insurance for you?
As observed, majority of the cancers diagnosed between 2014 to 2017 fell between stages I to III. With medical advancements and regular health screenings, we can expect an even larger proportion of diagnosis to be made at earlier stages in future.
Advanced / Severe Cancer would be (most likely be) classified as Stage IV, where it has spread to other organs of the body, also known as metastatic. This aligns closely with the definition set out by the LIA.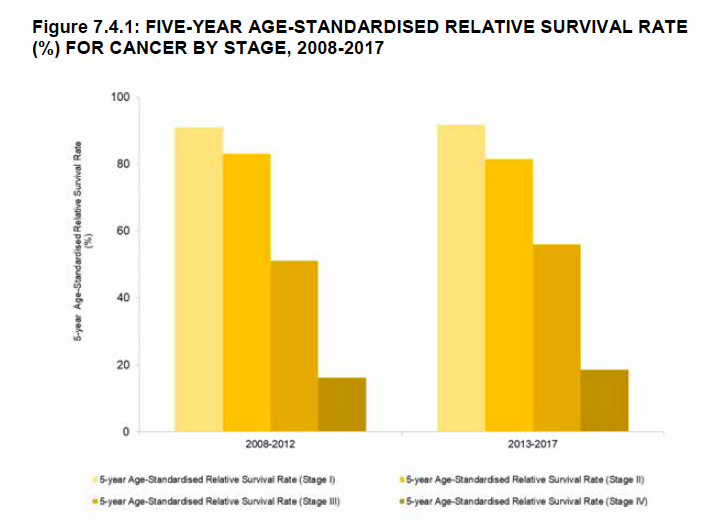 The 5-year survival rate for cancers diagnosed at Stage I from 2013 to 2017 was 91.7%, while that of Stage IV stood at 18.6%. While the 10-year survival rate was 87.6% and 13.7% respectively.
The above data shows that the earlier a cancer is detected, the higher the chances of survival.
A policy that covers for early stage CIs would also mean a higher probability of receiving, in the event of a diagnosis.
Factors to Consider:
Amount of Coverage – While maximum limits for advanced CI tend to be a lot higher, most companies currently only offer a cap of $250,000 or $350,000 when it comes to early/multipay insurance. If what you prefer is higher, you might want to split up your policies between different companies.
Length of Cover – How long do you want cover for? While some prefer to have coverage until their intended retirement age or when their children have graduated, others may choose to continue cover even during retirement in the event they have unexpected expenses.
Type of Cover – If after analysing your personal needs, and you need more Life insurance, getting a CI cover as a rider may end up saving you money instead of having them as separate policies. Would a Whole Life or Term with a critical illness insurance rider be better? Or would a standalone ECI or Multipay policy make more sense?
Accelerated or Additional – A policy with accelerated CI benefits means the sum assured is reduced when a claim is made. On the other hand, it remains the same with a policy with additional CI benefits.
Family History – One of the application questions asks if any of your close family members have either been diagnosed on passed on due to a critical illness. Family history may affect your underwriting outcome and submitting an application to multiple companies may increase your chances of getting standard cover.
Job Opportunities Post-Recovery – In a study conducted by the Singapore Cancer Society, 47.5% of participants found full-time employment while 24.3% remain unemployed due to health-related reasons. The participants involved had completed treatment for at least 6 months, and their median age was 55.7.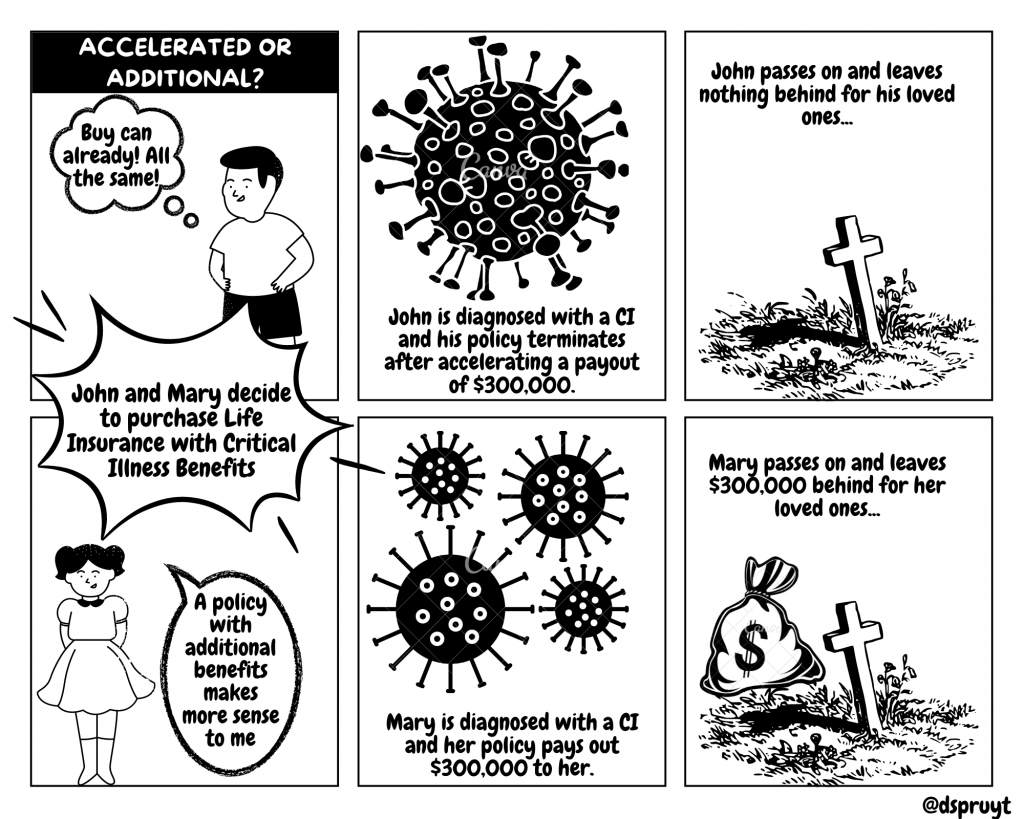 While most of the discussion has revolved around Cancer, it is the number 1 cause of deaths in Singapore. There are still many other common CIs, such as Alzheimer's, Heart Attack, Coronary Artery By-pass Surgery and Stroke.
A couple of common complications that arise out of Pneumonia are kidney and heart failure, which could also qualify for a payout under a Critical Illness Insurance policy under certain circumstances. As we age, we also become more prone to medical conditions such as deafness, blindness and many others.
Current options in the market which I am partnered with and am able to do a comparison for you include (although I do have friends partnered with other firms):
Manulife Ready Complete Care
Singlife Comprehensive Critical Illness
TokioMarine EarlyCover
AXA Super CritiCare
Manulife Ready Complete Care (Cover Me Again)
Singlife MultiPay Critical Illness
TokioMarine MultiCare
For a critical illness insurance comparison and what is the best solution for you, fill up your contact information and I will get in touch with you.