As markets evolve, insurance companies create new solutions to meet trends that they observe to be increasing. That is also the reason why multipay critical illness insurance (MPCI) plans have become more popular these days.
Here are some statistics:
Stage 3B breast cancer patients face a 70 to 90 percent recurrence within 10 years
80% of colorectal cancer patients are subsequently diagnosed with liver cancer
Understanding MPCI Policies
Before we compare the 2 types of critical illness plans, we need to understand Multipay CI plans as they tend to be more confusing. Early critical illness insurance plans are a lot simpler as their benefit ends the moment a payout is made.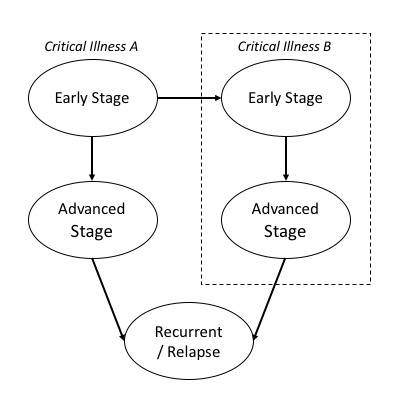 Multipay critical illness plans will make a payout under 3 scenarios.
Diagnosis of a specified early stage CI
Diagnosis of a specified advanced stage CI
Relapse of a specified CI (this benefit is usually payable up to 2 times)
In general, companies will offer some variation of the above with a waiting period between payouts. For example, if a claim is made before the waiting period is up, it will not be claimable.
This is one of the reasons why someone may prefer a multipay plan to a traditional CI plan. In a traditional (single) payout scheme, the policy terminates upon a successful claim, and the person become uninsurable with no future payouts.
What To Look Out For When Considering MultiPay Critical Illness Plans
To figure out what is the best multipay critical illness plan, there are 3 points to look out for. Consider the following scenarios:
What happens if I am diagnosed with an Early Stage CI, that worsens to the Advanced Stage?
What happens if I am diagnosed with an Advanced Stage CI immediately?
What are the requirements when claiming for a recurrent CI benefit?
Scenarios 1 and 2:
From the policy wordings of company X, you would note 2 things.
(i) They would pay out 100% if there is a diagnosis of an early/intermediate CI, and (ii) they would pay the "remaining sum assured" if it advances with no waiting period.
All companies have a maximum amount they would payout in the early or intermediate stages, for example $250,000. This means that if a person were to cover themselves for more than the amount stated, they would receive the remainder (X – minus $250,000) only if the condition worsens.
On the other hand, Company Y pays out 100% of the sum assured upon diagnosis of an early/intermediate stage CI. In addition, they would pay 300% less any previous claims in the event the CI advances (with no waiting period).
Scenario 3: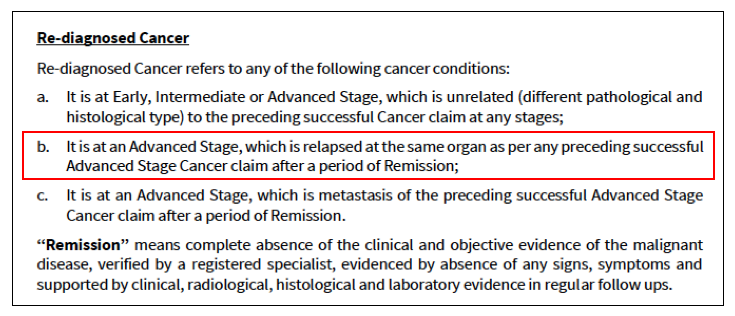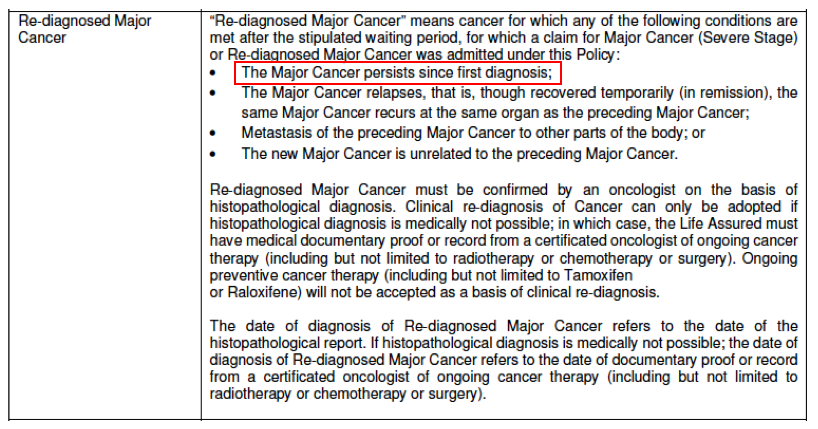 The difference here is Company Y would payout to the assured in the event the cancer persists and does not go away, while Company X requires the cancer to be in complete remission for 2 years before a claim is approved.
The benefit of Company X is they would approve a claim if an unrelated (primary) cancer is detected is diagnosed regardless of stage. However, the frequency of multiple primary cancers has been reported to be in the range of 2 – 17% within 20 years of follow-up.
Once you understand how the different multipay critical illness plans work, you will understand when a payout will be approved.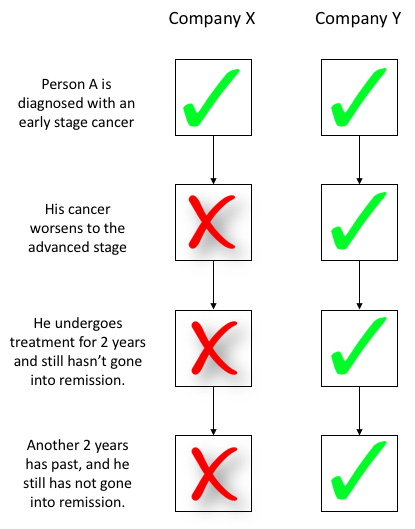 The policy wordings take time to understand, and one may choose not to focus on the details and assume all policies are similar. In fact, it was only after going through the documents multiple times from the various companies that I understood the differences.
Now that we understand how MPCI plans work, we can compare the 2 benefit types and decide which is best for you.
Assume John has a shortfall of $240,000 after calculating his critical illness needs. How should he go about making a choice?

Option 1: Choose a policy which pays out an immediate $240,000 for ECI.
Option 2: Choose a policy with pays out multiple stages of CI with a sum assured of $240,000.
Option 3: Same as above with a sum assured of $80,000 instead.
As observed, the premium difference is not proportionate to the maximum limits the policies would pay. It ranges from about 39% for Company B to almost 83% for Company C.
The $80,000 figure is derived by selecting a MPCI that pays out 300% sum assured in the event one of a diagnosed advanced stage CI. If you chose Company X, you would still need a sum assured of $240,000.
By considering the different scenarios, you would have a better understanding of the differences between the multipay policies.
Factors to Consider Which is Better For You:
Length of Coverage – As the coverage period is longer, the likelihood of a payout increases, especially for MPCI policies where the insurer may have to pay out multiple times out. This also means that the difference in premiums between the 2 types would increase.
Profile – Insurance becomes more expensive with age and if one is a smoker. However, the gap between the 2 benefits get larger, as multi-pay policies would have to potentially pay a larger sum.
Nett Premiums Paid – The comparisons shown above are only for standalone ECI term plans vs Multipay CI plans. However, a Whole Life Policy with early critical illness insurance may be a more effective solution and could be considered.
Cashflow Management – If the solution you prefer requires more resources, consider your other goals such as planning for your retirement also. You do not want to stretch yourself too thin either.
More Today or Tomorrow? – Do you prefer to be paid more upfront? or in batches depending on your condition? Assuming you do get an ECI policy, do you then have a strategy on what to do with the payout to ensure that your living expenses are still paid for if your condition worsens?
Chances of Survival – Although multipay plans pay recurrent benefits, the 5 year survival rate stands at 18.6% for Stage IV cancers, which means there is a likelihood the benefits will not be "maximised".

While multipay policies are more expensive than ECI plans for the same sum assured, an alternative would be to have a lower sum assured and only receive more if a condition worsens. MPCI policies are more complicated and have more requirements to fulfil, which may not payout when you expect it.
When implementing an ECI policy we need to plan what to do with the payout. Even more so if we are diagnosed at an early age, as we become uninsurable.
Options in the market which I am partnered with and am able to do a comparison for you include:
AXA Super CritiCare
FWD Recover First & FWD Total CI rider
Manulife Ready Complete Care (Cover Me Again)
Singlife MultiPay Critical Illness
TokioMarine MultiCare
Other options that I have also done comparisons with:
AIA Power Critical Cover (PWCC) [No longer available]
AIA Absolute Critical Cover
Prudential PruActive Protect (PAP)
If you would like to learn more about Multipay Critical Illness Plans and whether they are suitable for you, fill up your contact information here and I will connect with you.