With cancer having the highest claims, one may be inclined to find the best cancer insurance Singapore has.
I compare policies from 10 different companies to figure out what you should look out for, so that you may be able to choose the best cancer insurance Singapore companies can offer.
The great thing about the cancer cover policies is that many of them are highly accessible, which means that you are able to purchase them directly off the insurers' websites, and the health questionnaires are simplified.

While majority of claims do come from cancer diagnosis, it is recommended to get a critical illness policy that covers a broad range of conditions as a foundation, and a cancer plan as a supplement.
If we did a simple comparison with an Early CI plan against the Cancer insurance policy from Company E, we can see that the premiums cost about 36.5% of that of the policy covering broad conditions.

However with a longer cover, a whole life policy may make more sense financially, as it could be cheaper in the longer term.
Factors to Consider:
Definition of Early Cancer – While advanced cancer definitions are standardised across the market, it is not when it comes to early stage illnesses. In my findings, only 1 company had the definition of having cancer diagnosed at "specified organs", while the rest were more similar.
Amount of Cover Required – The companies with the maximum sum assured is $300,000 while some only allow a maximum of $100,000. Therefore, deciding on how much you require would help filter your choices.
Coverage Period – While traditional term life policies require you to decide on the period which you want cover for, majority of the cancer plans have guaranteed renewability. This means that you can decide to stop the cover when you do not require it.
Payout Structure – Not all companies accelerate the full 100% amount upon diagnosis of an early stage cancer. This would mean that the policies which do not pay out the full amount would most likely have a lower premium compared to the rest.
Premium Structure – Majority of the solutions have premiums which increase each year, or by age banding (e.g. every 5 or 10 years). Level term policies tend to be more expensive initially, while renewable term policies tend to be a lot more expensive in the later years.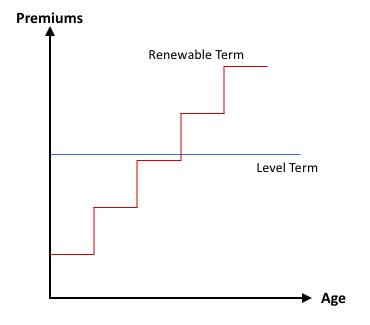 Once you have decided your preferences with the 6 factors above, you will be able to filter our which policy best suits your needs.
The main advantage of getting a cancer insurance plan is that those with pre-existing conditions are able to get insured without concerns of exclusions or loading. However, it is still subject to the answers given during application.
The biggest disadvantages of such policies, is that one may miss a payment in the later years resulting in the policy lapsing and losing cover.
If you are concerned about coverage for cancer, you want to consider a multipay plan that pays out a benefit to you in the event of a relapse after a diagnosis, which will help ease any potential financial burdens.
Current options in the market which I am partnered with and am able to do a comparison for you include:
Allianz Cancer Protect
China Life Cancer Guardian
MSIG CancerCare Plus
NTUC Income Cancer Protect
Tokio Marine TM Protect Cancer
Tokio Marine go TotalProtect Cancer
If you would like to find out which is the best cancer insurance Singapore has that matches your needs, fill up your contact information here and I will connect with you.